Sleeping Arrangements & Food at Camp
Near the haybarn and adjacent to the orchards are stunning red cabins, each designed specially for us, to comfortably fit a crew of bunk beds, with skylights (for seeing the stars), and a front porch for sitting (and taking off shoes). The cabins have ceiling fans and lights, along with an air conditioner for some of the hot summer nights. Boys and Girls have separate cabins, and a same-gender counselor sleeps in the same space with the campers. Campers are guided by their flashlight and solar pathway lights to the Gathering Barn for any evening trips to the bathroom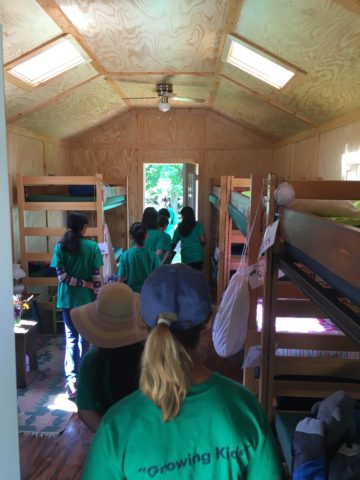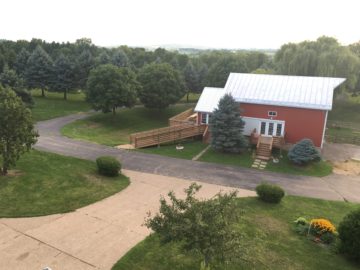 The hub of activity is our century old Gathering Barn where we share our meals together on one long table, hold our meetings, and shower up every night. Along with restrooms and showers, the barn includes a screened dining porch on the south side overlooking the fields and hills.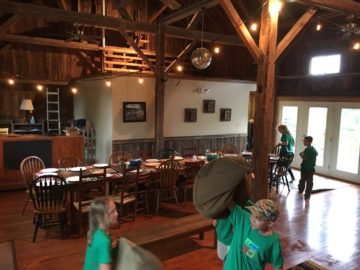 All meals, snacks, and baked goods are prepared by the campers alongside our camp chef in our simple and efficient commercial kitchen. Before each meal, you will see a bustling crew of campers carrying down plates, silverware, napkins, and serving dishes of prepared food. After each meal, everybody pitches in to get dishes back to the kitchen, food scraps to the compost or chickens, and barn reset for the next meal. In between meals, campers are diving into their own games, projects, or a shady hammock swing with friends.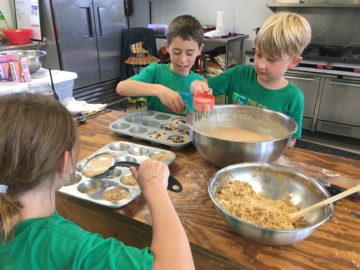 We grow many vegetables and fruits ourselves, and are fortunate to be surrounded by well-run family farms and dairies, which make it possible to prepare a great variety of ethically and responsibly raised fruits, vegetables, grains and meats. Vegetarians find many satisfying options, and seconds are always plentiful. We do not add nuts to the menu, but cannot guarantee a nut-free environment.