Overnight School Visit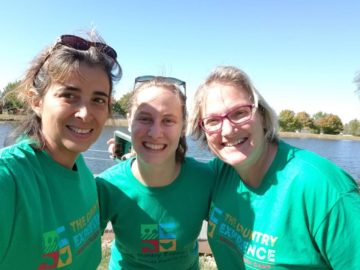 "For me personally, the week on the farm was one of the most valuable experiences that I've had as a teacher. I feel as though I have a much greater understanding and appreciation of all that they experience in a day, and I feel like I know the children in a different way"

-Lower El Directress

"I have had very positive feedback from parents and the children are still raving about it."

-Patty, Head of School

West Suburban Montessori School
We open the farm, cabins, gardens, and pastures to school groups for their Spring capstone and Fall community trips. "Sleepaway" tightens the classroom bonds and builds real-life skills like meal prep, care for others, priorities, problem-solving, and decision-making. Depending on fit and your trip goals, your class can have the whole farm to yourself or may choose to collaborate with another small school visit that week.
Duration & Timing
3 – 13 day-long trips
Spring: late April – May – often used as a "capstone" trip for schools
Fall: late August – October – great for building community
A full week (Monday-Friday) is highly recommended— the first few days at the farm, children are absorbing the amount of freedom, possibilities, safety training, and routines that take place. Over days 2-4, the children grow their confidence as they see just how capable they are in a real-world setting, choose projects to work on and establish a newly discovered role within their classroom community. The visit culminates nicely with closing ceremonies– celebrating the success, community, and contribution of the group.
Staff:
We will be fully staffed to allow activities to operate in optimal small groups (3-5)
Most schools bring their lead teacher/guide, an assistant, head of school, etc.
On-Farm Learning:
Our goal with your visit is two-fold:
To prepare an environment where children experience life and learn about themselves, their abilities, and their place in the world,
Support your efforts to teach them, to meet their developmental, intellectual and social needs. What you'll find at TCE is a group of partner-minded adults who want to help you succeed and your children grow, and we'll work with you to create the visit that fits your class, your school, your kids.
Learn more about:
Why TCE?:
Our facilities and processes have been built to allow you and your class "inside the fences," so students do the animal feeding, health-checks, providing clean and dry housing. We base our activities on the real-life of the farm, so instead of "imagine you need to….," we actually go out and do it. Decision-making has real outcomes, cooperation (or lack) is clear to see, the community builds as does confidence, awareness of self and others, and an appreciation for life and complexity.
How do we get started?
The best visits start with a conversation about your school's needs and possibilities.
Please call Ed at 312-852-7400, or email ed@thecountryexperience dot com, or claire@thecountryexperience dot com. View our Calendar for possible weeks to reserve!